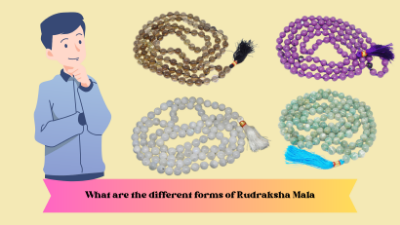 We have several various types of Rudraksha Mala, and we explain them here so that you can make an informed purchase decision.
Rudraksha is available in two varieties by its origin
1. Nepali Rudraksha
2. Java (Indonesian) Rudraksha
Nepali Rudraksha comes in sizes 16mm and above, the most commonly available size is 17mm to 19mm for Five faces Rudraksha which is the most common Rudraksha. Five-face Nepali Rudraksha is easily available and cheap, but its transport can make the price costlier as the beads are heavy and the courier company charges transportation by weight. So do not be surprised if you find transport charges more than the cost of the Rudraksha string you are ordering. But it is worth it, you can use a few pcs of the Rudraksha beads in your mala designs, it is a very powerful Rudraksha and anyone with sensitivity can feel its energy. Five face Nepali Rudraksha helps with health benefits like blood pressure, anxiety, and stress issues and helps in meditation.
Java Rudraksha comes in sizes 3-4mm to 14mm. The most commonly used size for making mala Or bracelets is 6mm to 9mm. 5 face Rudraksha mala of Java is also cheap, some sizes may be costlier than Nepali Rudraksha, but their shipping cost is low when compared to Nepali ones as these are lighter. Also from designing point of view, it is easier to incorporate in many designs as these are small beads and also come in many sizes. In India it is sold dyed red, maroon to orange color, it is a tradition. When using dyed Rudraksha it must be noted that it would leave some color in the first 1-2 washing, it is nothing to be alarmed about. When selling these Rudraksha make a point to educate your customer so that they expect it. If don't want to use dyed ones you can order natural-colored ones. The colored one looks better so many prefer colored ones.
How does rudraksha help the human body?
One of the most common questions that I encounter regarding Rudraksha is 'Is it effective? ' or 'Does it work? ' sometimes customers come and say 'The Rudraksha you gave me working very well' and sometimes Rudraksha you gave is not working' , then I wonder how they know it is working or not?
My take on the issue is, Rudraksha is the most effective healing item available, much better than costly Gemstones.
But the question is how it works. What to expect from Rudraksha when you wear it for some special purpose.
The first point to note is that it doesn't do any miracle to solve a problem. Example 7-face Rudraksha is for financial prosperity, so when you wear a 7-face Rudraksha don't expect that money will suddenly start coming from all sources. It is just that Its vibrations will make you more open to recognizing money-making opportunities, it will let you see what you can do in a situation to earn decent and legitimate profits, and its vibrations just make a change in your energy patterns. People who have faith and are open to change gets result sooner than people plagued with doubts.
Rudraksha with different faces have different vibrations, seers, and rishis who meditated in jungles for years and were extremely receptive and aware of the vibration and energy pattern changes, documented the effect of each face Rudraksha in an ancient text in Shiva Puran.
My personal experience of the Rudraksha effect when I wore 4 faces of Rudraksha is very satisfying.
I wore 4 face Rudraksha for better communication. I couldn't express myself very well despite having adequate knowledge of the subject under discussion. After wearing the 4 faces Rudraksha I felt I was able to express myself well, my thoughts were structured perfectly to produce the desired impact.
So Rudraksha is very effective in healing and enhancing various qualities of the wearer, thereby giving corresponding results.
I will share in the future all face Rudraksha qualities, so you can decide which face Rudraksha to wear.
How

to

spot

a

fake

rudraksha
There is a very common belief that most of the rudraksha that is on sale is fake Rudraksha. Is it true? Or how much of it is true? How to buy authentic Rudraksha? We are going to answer these questions in this mail.
Yes, fake Rudraksha exists, but most of the Rudraksha are not fake. Why? Because more than 90% of Rudraksha produced is 5-face Rudraksha which is very cheap and there is no financial incentive is producing fake of these Rudraksha.
What about the other face Rudraksha?
4-face, 6-face, and 7-face Rudraksha are not expensive enough to encourage fraudsters to create fakes of these Rudraksha. The reason for fake Rudraksha appearing from 14 faces and upwards is pricing. A 13-face Rudraksha is roughly $80, and a 14-face Rudraksha is around $300, therefore Fraduster strives to produce one extra face artificially to earn more by selling 12 or 13-face Rudraksha. The majority of Rudraksha fraud is committed in this manner by manufacturing extra faces.
There are some plastic Rudraksha too, but these are easy to detect and generally done by street sellers, they sell cheaply to buyers who do not know anything about Rudraksha and looking for cheap deals. Plastic Rudraksha look very nice and polished which is generally not possible with natural ones.
Premium Rudraksha should be purchased from an established organization with repute and with a certificate for Rudraksha 8 face and above.
This information is most valid for Nepali Rudraksha. For Indonesian Rudraksha problem of fake Rudraksha is less common because these Rudraksha are much cheaper than Nepali Rudraksha, so the problem of fake Rudraksha comes into play from 18 faces and above, that too of extra faces, no plastic Rudraksha is made for Indonesian variety.